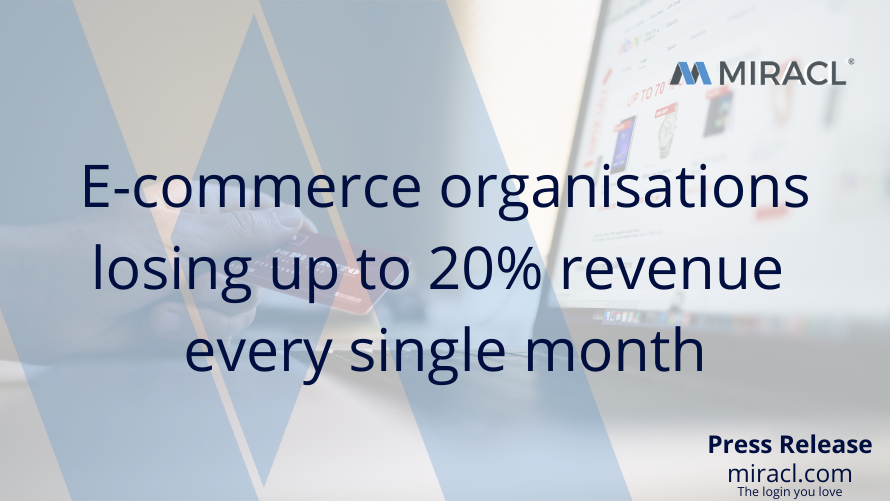 Using data from actual website traffic, MIRACL today reveals that e-commerce organisations across the globe are potentially losing out on between 5 and 20% worth of revenue per month. And, in a volatile economic climate as the globe eases out of a pandemic, and with escalating unrest in Eastern Europe, this is millions enterprises can't afford to lose out on.
The industry standard for customer login is with a failure rate of between 5 and 20%, depending on sector, authentication method and geography. When this is compared to superior authentication solutions providing an average of over 99.6% log-in success, it is easy to understand how businesses are compromising on profit potential simply by not implementing the most effective log-in solutions for their customers.
Rob Griffin, CEO at MIRACL comments, "This is an oversight many businesses are not considering. With the rise in multi-factor authentication to ensure the security of the customer when selling online, clunky solutions are the norm – the result, customers drop out. Business is lost. And when in the workplace, hours are wasted every year because staff have unreliable login processes simply to crack on with their work. Every internal login wastes about 30 seconds of employees' time - MIRACL Trust minimises internal support costs as well as improving top line engagement. Both have a significant impact on the business.

MIRACL, the world's only one step multi-factor authentication, demystifies this glaring shortfall with the launch of our new online calculator - so business leaders can see in an instant the profit they are potentially losing out on."

Lynsey Lambert, Vice President Product at Native Shoes and ex-Nike Retail Executive adds, "I can't believe the potential consumer connection opportunity by simply improving the log-in experience. In retail, we care about customer relationships above all, as consumers today will convert with brands they trust. I know that log-ins are a friction point, seeing MIRACL Trust in action, there is now a simple solution that makes the digital brand experience easier and faster while also protecting the consumer. Introducing one step multi-factor authentication is hugely valuable – this is going to be discussed internally for sure."
Cashfac VBT is the financial industry's most-trusted virtual accounts platform. When the company behind it looked for multi-factor authentication that could keep things simple with cast-iron compliance, they chose MIRACL.
"The first time we looked at MIRACL, we thought it was too good to be true, but it provided the most innovative, cost-effective and scalable MFA solution, and met all of our technical requirements." shared John Ferguson, Chief Risk Officer, Cashfac.
The latest data shows that the login success rate for Cashfac customers using MIRACL Trust consistently runs at over 99.95%. No data is stored so it is entirely GDPR & PDS2 compliant. Its' PIN-based system eliminates the need for passwords. A seamless user experience results in just 0.05% of logins failing and when that occurs, the user-flow for identity and account verification is straightforward and easy.
Individuals can access the new MIRACL calculator launched today at www.miracl.com to determine the potential boost to sales possible with implementing MIRACL Trust.
With an easy to use sliding scale, by confirming monthly revenue against average successful login rates, your potential missed profit is calculated instantaneously.
MIRACL is the world's only one step multi-factor authentication provider. It can easily be integrated into current company platforms and is a low cost verification option. It boasts clients such as Experian, Domino's and Cashfac and has been licensed by big tech names such as Google and Microsoft.
For further press information, interviews or photography please contact the MIRACL press office: