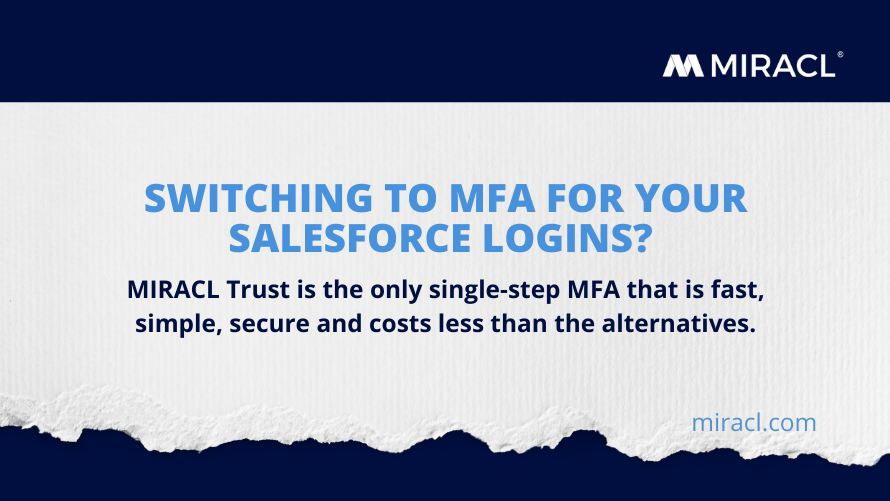 Salesforce MFA
Since the onset of the pandemic, remote and now hybrid working has become the norm for organisations across the globe. Accessing company data from multiple devices and diverse places, has created new vulnerabilities for businesses to consider, putting login security at the top of the 'must-action' list for 2022.
One organisation leading the charge on this is Salesforce. From the start of February 2022, all users will have to enable or install multi-factor authentication or they will be in breach of contract.
Not only will this have a huge impact on the millions of Salesforce users across the globe on a practical level, but it will also immediately elevate the security of their data, which in the long term is a really positive benefit.
Customers will be able to enable the multi-factor authentication (MFA) offered by Salesforce or through their Single Sign-on provider, which is likely to be the case for larger corporations. By enabling MFA, it makes it significantly harder for hackers to access information so protects companies from the increasing threat of a cyber attack or breach.
What is MFA for Salesforce?
What are multiple factors used for authentication? In essence, they are additional types of evidence that users provide when logging on to confirm their identity.
One factor authentication is something users know. So for Salesforce logins currently, that's a username and a password combination.
Additional factors are verification methods that a user has in their possession such as a mobile device with an authenticator app installed or a physical security key. Or a biometric, for example.
Problems arise with MFA when:
Users don't have a mobile to hand to complete authentication
Users are time precious and the second factor for the authentication becomes inefficient because of the time it takes to work (when being sent an authentication passcode for example)
There are multiple people sharing one device, such as in call centres, factory floors or retail stores.
Getting ready for Saleforce MFA
If MFA is already mandatory for all of your users' logins on your Salesforce products, then you meet the requirements and no action is needed. If not, you need to implement one of the following:
Enable Salesforce multi-factor authentication: if your users access Salesforce directly through the Salesforce interface then they can enable MFA through their settings
Enable MFA through your SSO provider:if your Salesforce products are enabled through an SSO identity provider then you need to work with them to enable MFA before the deadline
Consider the most efficient MFA to use, in terms of cost and time: book an authentication consultation with MIRACL to consider what are the best options on the market and what would be the best solution for you long term. If you are looking to save time, then the Salesforce option might not be the most effective.
MIRACL authentication does not use passwords and provides a low-cost, unrivalled multi-factor authentication solution that can be seamlessly integrated with Salesforce ahead of the 1st February deadline.
Over 99% success rate for user login experiences (vs 92% industry standard)
Takes less than 2 seconds to authenticate
Works without mobile device or physical security key
Interested? Then get in touch today and we will help you meet the requirements smoothly and cost effectively.
To reach out to MIRACL about potential partnership opportunities email Kate Ellerton at kate.ellerton@miracl.com or get in touch here.