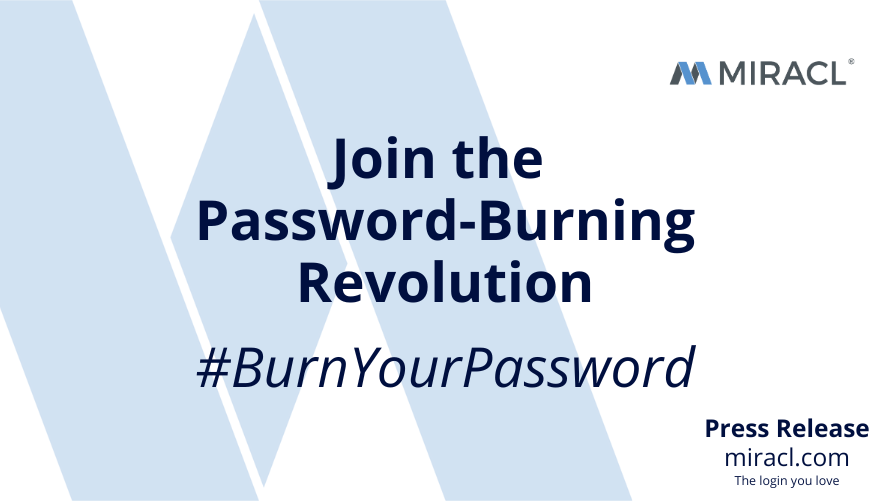 In response to the UK government's new fraud strategy, MIRACL uses World Password Day to highlight the ongoing threat passwords provide and invites individuals to #BurnYourPassword.
As the UK government announces its new Fraud Strategy, with a seemingly overhaul of Action Fraud and promises of new strengthening responses to online fraud, it goes without saying this World Password Day - if we banish the password, thousands of individuals could be protected from online exploitation in an instant.
Individuals across the UK are notoriously naive when it comes to passwords, using consecutive numbers, personal words and pet names over and over again - making them highly vulnerable to impersonation scams. And for those who are more cautious with their password creativity, the constant threat of data breaches from even well known brands only reinforces why passwords should be banished for good.
So, this World Password Day MIRACL is inviting individuals to become part of the password-burning revolution and to bid a farewell to the hassle of creating and remembering complex passwords by joining the #BurnYourPasswords initiative on social media.
MIRACL's top ten reasons for organisations to ditch passwords this World Password Day:
Over 80% of data breaches occur due to weak passwords
Companies dedicate 30-60 % of their support desk calls to password resets
42% of IT specialists rely on sticky notes to store passwords
24% of Americans use passwords like "password," "Qwerty," and "123456"
50% of people even use the same password for all their accounts
More than 1 million passwords get stolen every week
Passwords that are 8-character passwords take only around 39 minutes to get cracked
The average Brit spends almost an entire day every year changing passwords
10% of Brits admit to reusing passwords from other accounts
1 in 10 people have canceled a purchase from an online retailer because of their frustration with password logins
MIRACL is a passwordless, single-step multi-factor authentication (MFA). With one-step  to activate, the user login experience is not compromised. And with a required investment that is often only a fraction of the client's current support costs for password based authentication solutions, this single-step alternative is financially beneficial too.
A two-second PIN login is all that is needed to authenticate. No passwords, no data and no second device. With an unprecedented login success rate of 99.9%, it guarantees a seamless login.
Rob Griffin, CEO at MIRACL comments, "It has long been recognised that passwords are outdated and not secure enough for the needs of a modern business, so what better time to highlight this than on World Password Day. There are just too many flaws in password-based authentication and we need to move away from reliance on passwords as a society. There are other, safer means of authentication that require multiple factors and can't be phished or brute forced which are more reliable, more user-friendly and above all, more secure. If you agree, we today encourage you to join our social media campaign #BurnYourPassword and get our voices heard!"
Questioning the longevity of the password MIRACL will once again host World Passwordless Day on Friday 23rd June, celebrating the benefits of online authentication without a password.
Learn more at www.miracl.com
-ENDS -
Media Contacts:
For interviews, photography or further press information:
Sarah Sawrey-Cookson, MIRACL
Sarah.sawrey-cookson@miracl.com 07765 1105438
Notes to editors:
Highly secure, password-free login in just two seconds. The fastest way to improve the user experience, decrease costs and win lost revenue. MIRACL Trust is a PSD2 compliant multi-factor solution for both authentication and transaction signing that runs natively on any device without downloads. It's GDPR friendly since no user data is stored or needed to integrate with any other identity or service platform. MIRACL's global portfolio of clients include Credit Agricole, Cashfac, Experian and Domino's Pizza. MIRACL's technology is licensed to the US Government, Intel, Google and Microsoft.
For more information visit miracl.com or follow them on social media: Twitter @MIRACL | LinkedIn MIRACL