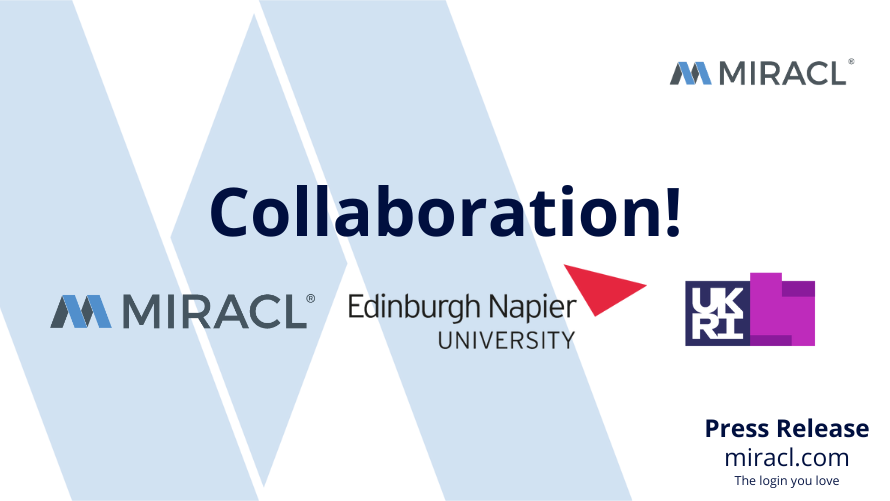 The collaboration will look at new ways to keep data private and secure.
A partnership between MIRACL, the world's fastest single-step multi-factor authentication, and Edinburgh Napier University has been backed by a significant six figure investment from Innovate UK.
The Knowledge Transfer Partnership (KTP) programme will focus on cryptography, the art of keeping data private and secure.
The two-and-a-half-year collaboration between MIRACL and an identity-focused research laboratory at Edinburgh Napier University will aim to bring together new methods of securing data and work towards further enhancement of trusted computer systems.
The academic team, led by Edinburgh Napier University's internationally-renowned Professor Bill Buchanan OBE, has developed a deep knowledge of how cryptography can be used in the future to protect not only the security of data, but also the rights of citizens to privacy. This could involve proving that users know their password without actually revealing it.
New cryptography methods are also evolving which will be more robust against attacks from quantum computers and will open up other ways of protecting data.
Professor Buchanan said: "This is a once-in-a-lifetime opportunity. It will allow us to build on the knowledge of MIRACL and move forward our vision of creating a more trusted, secure and privacy-respecting internet."

"Our focus will be to develop a foundation to build products and services that MIRACL can take to the market and will hopefully secure the UK's place as a world-leader in cryptography and data encryption."

"These areas include copyright protection of content, data loss protection and in supporting data processing of encrypted data."

"Innovate UK supports the building of industry-academic partnerships, where knowledge can flow freely, and help to build new areas of our economy. For us, we have some cool technology to build with, including areas of Zero Knowledge Proofs (ZKPs) and Homomorphic Encryption."
Rob Griffin, CEO at MIRACL added, "As the online world continues to expand and evolve so quickly, the risks to our digital privacy are rapidly compounding. Online operators are pushing hard for more personalisation and automation of their service as well as building social communities in support. At the same time, regulators face an ever-growing challenge of protecting users so they too require more granular data on the identity of users, their devices, locations and usage patterns, all of which can further compromise users' privacy.  

In the face of this ballooning demand for users' personal data, the value of their privacy has never been higher. Left unchecked, bad actors will speedily and collaboratively seek to exploit the plethora of personal identifiable information that is frequently and unwittingly being made available to them.

There is therefore a growing need for cybersecurity solutions that help online services manage their users' identity and associated data in a way that not only improves the users' experience but also strengthens their privacy. MIRACL is already the leader in this space but there is much more to be done. We need to get to the point where security, user experience and privacy are all available simultaneously. This vital research with the world-renowned computing team at Napier will pave the way for future privacy-enabled security solutions. We very much look forward to developing this partnership and are incredibly grateful to Innovate UK for their support."
MIRACL is best known for its single-step MFA which, with its passwordless authentication, allows online users an ultra-smooth login process. Its unique cryptographic technology enables authentication by recognising the users' device with simply a 4-digit PIN or biometric. 
For further information visit www.miracl.com.
-ends-
For further press information, interviews or photography please contact:
Sarah Sawrey-Cookson, MIRACL press office – sarah.sawrey-cookson@miracl.com  | 07765 110438
John Callan, Edinburgh Napier University press office – j.callan@napier.ac.uk | 07917 559503
Notes to editors
About MIRACL
Highly secure, password-free login in just two seconds. The fastest way to improve the user experience, decrease costs and win lost revenue. MIRACL Trust is a PSD2 compliant multi-factor solution for both authentication and transaction signing that runs natively on any device without downloads. It's GDPR friendly since no user data is stored or needed to integrate with any other identity or service platform. MIRACL's global portfolio of clients include Credit Agricole, Cashfac, Experian and Domino's Pizza. MIRACL's technology is licensed to the US Government, Intel, Google and Microsoft. In a recent customer report out of 50,407 logins, only 2 people needed to reset their PIN - a success rate of 99.996%. 
For more information visit miracl.com or follow them on social media: Twitter @MIRACL | LinkedIn MIRACL
About Edinburgh Napier University 
We are Edinburgh Napier University, the #1 modern university in Scotland (Times Higher Education World University Rankings 2023), the #1 university in Edinburgh for student satisfaction (NSS 2020, 2021 & 2022), a top 10 UK modern university (Times/Sunday Times Good University Guide 2023), and the top Scottish modern university for research power and impact (Research Excellence Framework 2021). We pride ourselves on being the home of difference makers—an enterprising and innovative community, renowned internationally, with an unrivalled student learning experience. With more than 300 undergraduate and postgraduate courses and nearly 20,000 students from over 140 countries studying on campus in Edinburgh, online and at partner universities worldwide, we deliver meaningful, difference-making education and research for a rapidly changing world. For more information, visit www.napier.ac.uk.