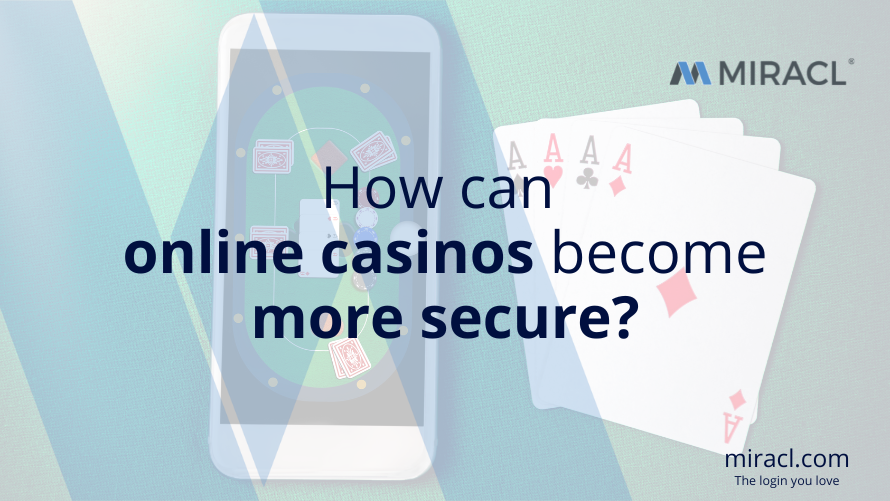 Globally, betting has become more popular. As a result, the online casino market is growing- but so is the risk of cyber threats for the industry. Can online casinos protect their assets and customer data and still offer a great customer experience to grow their business? 
Why is the gambling industry growing?
Casinos always held a particular fascination: James Bond can often be found in one, and Monaco wouldn't be the same without its famous casino. But until the dawn of the internet, not everyone could spend an evening at the roulette table. You had to be able to physically travel to a casino. Thanks to new legislation in many countries and online casinos, the audience for well-known games like slot machines, keno, poker, bingo and roulette has dramatically increased in the last two years. But there are more reasons. 
Why are online casino games so popular?
Higher chances of winning
Compared to offline casinos, online casinos provide higher payback percentages and have better odds of winning. 
In addition, online casinos provide numerous gifts and bonuses, which make them more attractive for players and have increased website traffic. 
More Variety 
Today, there are numerous gaming options from which to choose. The thriving sports betting market offers odds on both local and international games and competitions. There are no sports events for which there is no betting type, so it appeals to all kinds of fans. 
Another compelling reason for its widespread acceptance is the variety of stake placement options. Traditionally, sports bets end with determining the overall winner after a match. 
Punters can now bet on many aspects of games: who scored first, the most important players, the number of corners taken (in football) and other outcomes.
And the wagers are not restricted to future events. With Livestream options available, you can also bet on live games in match statistics and viewing.
Freemium 
A freemium business model is one in which a company provides users with basic or limited features for free and then charges a premium for supplemental or advanced features. For the freemium model to be successful, businesses must ensure that their premium users have access to upgraded features, like increased storage or customisations, and additional customer service.
Freemium models are prevalent in software and internet-based businesses.
This business model has the advantage of attracting many early adopters, especially when there is no cost to trying out an app or service. If they recommend the app, more gamers join. 
And then, there are the legal changes in the USA. They have increased the audience for online casino games and gaming in general. 
Betting in the USA has become more popular
In May 2018, a landmark ruling by the Supreme Court gave states the authority to legalise sports betting. So far, 30 states (more than half of the country) have begun legalising sports betting. In 2021, the sports betting industry exploded, with $57.2 billion 'in handle' — an insider's term for the amount of money wagered. Four of the country's major sports leagues have contracts with major sportsbook operators, and TV broadcasts now display odds during games. 
According to the American Gaming Association's annual survey of Americans' NFL betting plans, a record 46.6 million Americans plan to bet on the NFL this season.
The nearly 47 million people who plan to gamble this year represent 18% of all American adults, up 3% from last year and more than 40% since 2020. Similar to last year, 37% of NFL fans intend to wager on the league this 2022 season. 
The industry's explosion is visible in unexpected sectors: The Washington Post has launched a sports betting guide. ESPN, an American international basic cable sports channel, has entire programmes dedicated to wagering and odds-making. And users on TikTok, Twitter, and Instagram form communities dedicated to sports bets.
But not only the USA changed their attitude towards gaming: neighbour Canada has also changed its laws about online betting. 
Sports betting in Canada: what has changed?
In 2021, Canadian legislators passed a bill with the rather unspectacular name C-218. It modified the nation's Criminal Code to enable legal single-game betting. Before that, Canada did not permit single-game sports betting and let the provinces decide whether or not to allow gambling. The new legislation empowered each Canadian province to create its own sports betting rules. So far, Ontario has shown the most enthusiasm; single-game sports betting became legal in the province of Ontario in April 2022. 10 Canadian provinces allow sports betting now.  
Data protection for online gambling in Canada 
On April 4, 2022, Ontario became the first province in Canada to regulate online gambling. To validate requirements like minimum age, Operators must collect detailed personal information from players. They must save this data upon registration before a player account is created. Operators must also monitor connections and interfaces to gaming systems to protect players against security threats.
In addition, operators and gaming-related suppliers must stay up to date on current security threats and risks to the security of gaming technology. All sensitive data, like player information and data relevant to determining game outcomes, must be secured and protected from unauthorised access. 
Betting and online safety
In 2021, the global online gambling and betting market was worth approximately USD 58.2 billion and is expected to reach around USD 145.6 billion by 2030. These vast profits also attract threat actors. 
Types of cyber attacks
There are many ways cybercriminals can do harm to both the players and the casino itself. Here are some of the attacks that can happen:
DDoS and Ransomware Attacks
These kinds of attacks are growing. In DDoS attacks, hackers hold players' or other crucial data and demand a ransom. The financial damage can go into the millions. Companies can't keep cyberattacks under wraps: Thanks to GDPR regulations, European licensed cases require public disclosure of any data breaches. That means they don't only lose money but their reputation too. 
Game Integrity
Hackers may try to manipulate the games and influence the game result. That erodes trust in the online casino and makes it nearly impossible to play. 
Fraud and money laundering
Threats can also come from the players. Casinos are an ideal way to launder money. In the past, casinos have been fined and even closed down for not following anti-money laundering standards. 
Account takeovers
Thanks to weak passwords that are often easy to guess, account takeovers are a real problem in the online casino world. Hackers who break into player accounts can use their credit card details to spend money in online casinos. 
Cybersecurity casinos use SSL encryption, but more is needed to prevent attacks on databases, payment systems, and games. 
The weak point: the customer
Every player registering with an online casino must enter their personal information and create a password to protect it. When making your first real money deposit, you will be asked to provide additional ID verification. This is to prevent anyone under 18 from betting on the site. This usually entails scanning or sending a copy of your driver's licence or passport to the casino. After that, you can deposit real money into the site.
The casino may also ask players to answer a security question to add an extra layer of protection if their password is ever compromised. That's the player's first line of defence against anyone attempting to access their money online.
Since online casino customer accounts are vulnerable, the NJ Division of Gaming Enforcement (DGE), which regulates all gambling in the state, issued new guidelines. They are designed to protect gaming providers and bettors. All New Jersey online casinos and sports books had to adopt Strong Customer Authentication (SCA). 
What is SCA?
Strong Customer Authentication is a set of requirements to make online payments more secure and reduce payment fraud.
SCA is a form of multi-factor authentication (MFA) that helps to prove customers are who they say they are. It requires at least two forms of validation out of three categories:
Knowledge (something you know) - a password, PIN, phrase or secret fact
Possession (something you own) - a mobile phone, smart watch, smart card or a token
Inherence (something you are) - biometrics like a fingerprint, facial recognition or voice patterns 
Why is SCA safer than a password alone?
Passwords have never been safe. One of the problems with passwords is that most people use the same password for multiple accounts. Worse, many don't even change them after a cyber attack. Today, 70% of exposed passwords are still in use. 
Why SCA is a challenge for online casinos 
SCA adds another layer of protection that makes it harder for hackers to access data or accounts. But it also adds friction to the gaming experience. 
If customers turn on SCA, they usually have to type in a One-Time-PAssword (OTP) on the casino website. Spending time on these security measures is annoying, so many opt out of SCA if they can. But that means their account isn't protected well. It's a catch-22. 
That's where MIRACL comes in. The single-step MFA login improves the user experience and protects your assets. We authenticate users without requiring personal information, making login more secure. The login process is nearly instant, and it prevents 99.9% of all attacks, from DDoS and ransomware to phishing and man-in-the-middle attacks. 
If you want to learn more, signing up for our newsletter is a great way to get to know us.