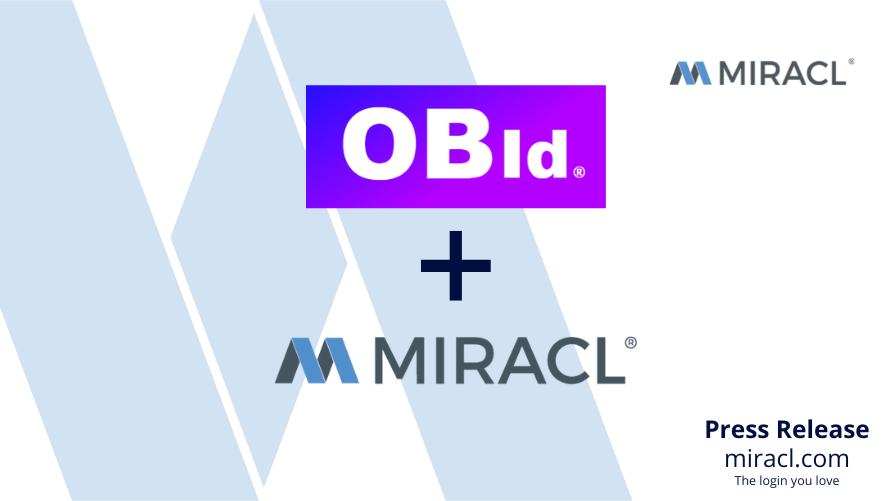 OBId, pioneers in open banking identity verification, today announces that it has joined forces with MIRACL, a passwordless, single-step multi-factor authentication (MFA) provider to deliver an even smoother login experience for their online customers, with immediate effect.
OBId is a groundbreaking, lightning-fast reusable digital ID that verifies user identities through their online banking accounts – an innovation made possible by open banking protocols and MIRACL single-step MFA. OBId has created an Open Banking ID verification tool that is utilised to provide a secure and easy way of proving your identity online combined with a great user experience.
One example is the use of OBId with the MyIdentity trust scheme. Within the home buying and selling process you might be required to authenticate and provide proof of identity up to five times during the already stressful process - causing an unnecessary headache for the user. MyIdentity relieves people of this inconvenience by enabling users to authenticate just once.
MIRACL is the world's only passwordless, single-step multi-factor authentication. A two-second PIN login is all that is needed to authenticate. No passwords. No data and no second device. With unprecedented statistics for login's - 99.9% are successful.  This guarantees a seamless login experience for individuals – enabling a friction-free experience from entering a platform and using its services.
Stuart Young, MD at MyIdentity explains, "For MyIdentity to succeed, it is critical that users have absolute faith in the created trust framework, which is why we only provide authentication options on MyIdentity that reach DCMS and scheme standards. MIRACL is the fastest passwordless MFA available, and matched with its data free process it offers our users convenience, security and confidence."
In the house buying world, these levels of credibility are especially important, as intercepting interactions within this buying and selling journey are highly sought after by cybercriminals desperate to extract personal data, or financial transactions.
Providing users with one authentication point when sharing personal data with up to five parties - solicitors, estate agents, mortgage brokers and lenders for example - has huge advantages. For MyIdentity, OBId's new partnership with MIRACL provides:
Convenience
Security
Confidence
Through its partnership with MIRACL,OBId has also secured a pilot with The Investing and Saving Alliance (TISA) - reinforcing MIRACLs credibility as a solution with the very highest standards of authentication.
Jim Lound, co-Founder at OBId comments "Reusable digital IDs will become the norm for day-to-day use, even at work, for logging into employee services. MIRACL is a great match with our framework, because it offers high security with low friction – the ideal for improved customer journeys."
He added, "When I first saw MIRACL, I was just fascinated by the technology. Without question: the user experience it provides makes it the one to go with. And on the commercial side, paying on a per-transaction basis is ideal for a startup looking to scale."
Rob Griffin, CEO at MIRACL followed, "Without a doubt, passwordless single-step multi-factor authentication is the future. Working with OBId shows us why. Users want security, convenience and confidence when online, and this starts with the login. MyIdentity is the ideal platform where users can reap the benefits of a MIRACL login - and remove one unnecessary stress point in the house purchase cycle."
Additionally, MIRACL is software-based and API-enabled to work from any device or browser. This means a quick and seamless integration with any device or platform being used. The software doesn't store personal data, passwords or PINs, so it's fully resistant to remote attacks - with zero security vulnerabilities. The old notion that your account login must trade off between security and usability  is no longer true, MIRACL offers both at the same time! For further information on MIRACL please visit: www.miracl.com
For further press information, interviews or photography please contact the MIRACL press office:
sarah.sawrey-cookson@miracl.com   |  07765 110438
Notes to editors
About MIRACL
Highly secure, password-free login in just two seconds. The fastest way to improve the user experience, decrease costs and win lost revenue. MIRACL Trust is a PSD2 compliant multi-factor solution for both authentication and transaction signing that runs natively on any device without downloads. It's GDPR friendly since no user data is stored or needed to integrate with any other identity or service platform. MIRACL's global portfolio of clients include Credit Agricole, Cashfac, Experian and Domino's Pizza. MIRACL's technology is licensed to the US Government, Intel, Google and Microsoft.
For more information visit miracl.com or follow them on social media: Twitter @MIRACL | LinkedIn MIRACL