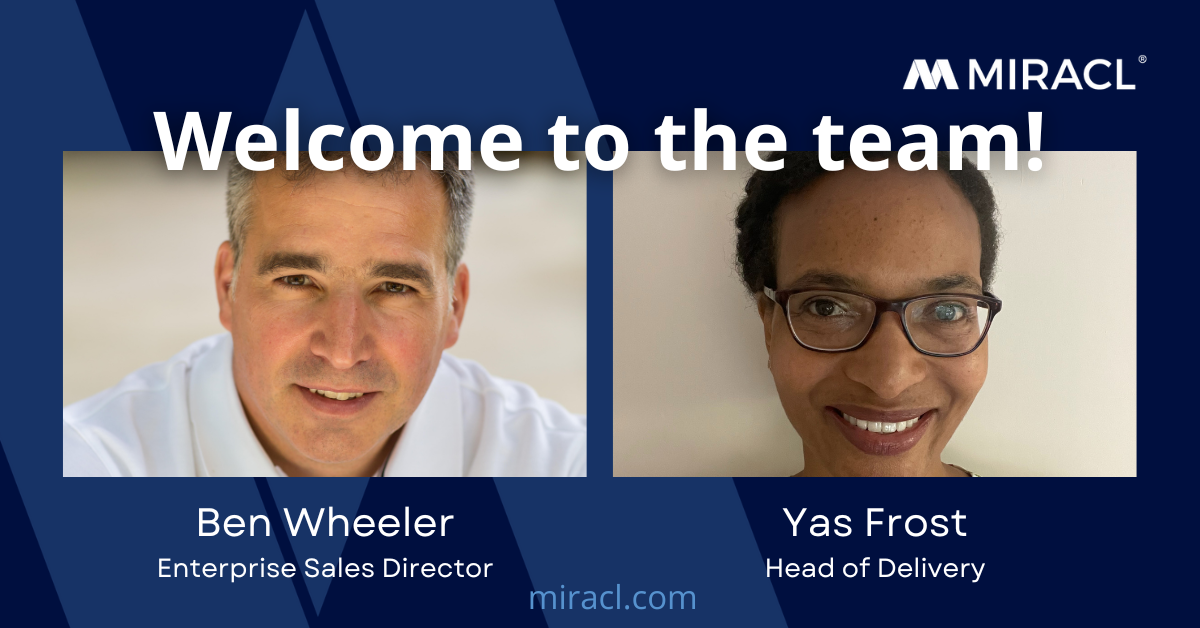 MIRACL - the world's only one-step multi-factor authentication provider - today welcomes an expansion to their product team, with the introduction of Yasmeen Frost as Head of Delivery and Ben Wheeler as Enterprise Sales Director, to support its accelerated growth ambitions for 2022.
Yasmeen Frost joins MIRACL as Head of Delivery. Formerly employed at ACI Worldwide, she was responsible for the delivery of key payment technology solutions and services to clients across a diverse portfolio of the Financial and Retail industry. Her vast experience is anticipated to help drive customer success.
Yasmeen Frost, new Head of Delivery at MIRACL comments, "I was drawn to MIRACL because of their strong collaborative teamwork ethos and highly innovative, proven and secure technology that their authentication solution offers. I truly believe that MIRACL Trust provides a ground-breaking impact on the login experience for all their clients - whilst removing the need for passwords - and I'm looking forward to applying my delivery experience to the team, ensuring a best-in-class solution for both clients and end users across their growing portfolio. I'm excited to get going."
Ex-Microsoft, Ben Wheeler is appointed as Enterprise Sales Director. With almost 30 years experience in the IT industry at leading organisations such as SAP, Oracle, Trend Micro and Remedy as well as several tech start-ups, particularly in the cyber security sector. Ben joins MIRACL to help drive much needed passwordless authentication in the enterprise and corporate space.
Ben Wheeler, Enterprise Sales Director, says, "I was seeking a highly differentiated proposition that addresses a real issue for its target clients. MIRACL Trust offers this and, whatsmore, is using proven, scalable technology, protected by international patents. An appealing challenge for a seasoned sales expert. Looking forward to starting and helping our client's end users finally start to love the login process."  
Rob Griffin, CEO at MIRACL, adds, "Following a significant investment from a US authentication provider earlier this year, the best drive forward to acceleration and growth of MIRACL is the inclusion of Ben and Yasmeen to our team. Their collective skills and experience will help to deliver the impact we are striving to achieve and I am delighted that they have joined the ever-expanding team."     
Yasmeen and Ben joined the team on Monday 13 June 2022.
MIRACL is the world's only one step multi-factor authentication provider. It can easily be integrated into current company platforms and is a low cost verification option. It boasts clients such as Experian, Domino's and Cashfac and has been licensed by big tech names such as Google and Microsoft. 

For further press information, interviews or photography please contact the MIRACL press office:
sarah.sawrey-cookson@miracl.com   |  07765 110438
If you're curious to learn more about MIRACL Trust single-step MFA sign up for our newsletter, which features the latest in security software systems.