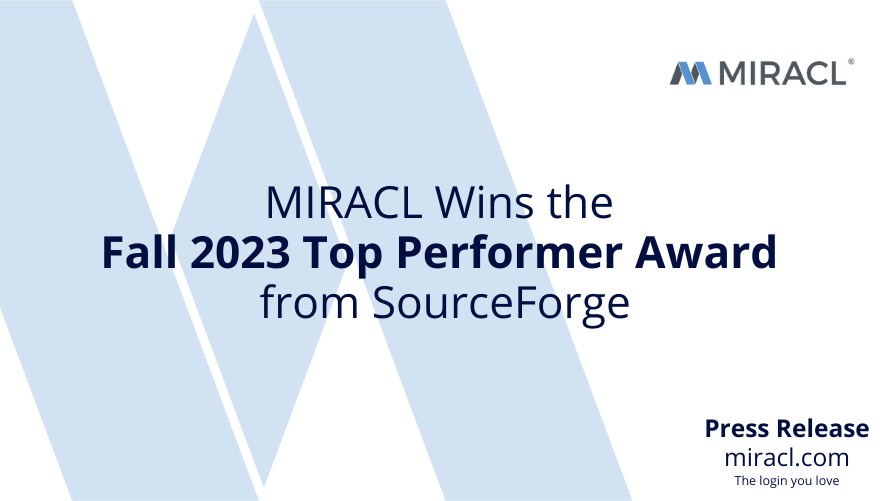 MIRACL is proud to be a winner of the Top Performer award from SourceForge, the world's largest software reviews and comparison website.
16th October 2023 – MIRACL, the world's only single-step, passwordless multi-factor authentication solution, today announced that it has been awarded a Fall 2023 Top Performer Award by SourceForge, the world's largest software and services review and comparison website.
This award recognises exceptional companies and products with a significant amount of recent favourable user reviews that puts them in the top tenth percentile of highly reviewed products on SourceForge.
"We're happy to announce this year's outstanding Fall 2023 Top Performers" said SourceForge President, Logan Abbott. "MIRACL showed that their users love them, as evidenced by the significant amount of outstanding user reviews."
To win the Fall 2023 Top Performer award, each winner had to receive enough high-rated user reviews to place the winning product in the top 10% of favourable reviewed products on SourceForge, which demonstrates the utmost quality that MIRACL delivers to customers.
Rob Griffin, CEO at MIRACL added, "At MIRACL, we're excited to accept the SourceForge Fall 2023 Top Performer Award. As we continue to develop excellent partnerships within gaming this latest accolade from users provides even more validation as to why MIRACL should always be the go-to single-step MFA. MIRACL both increases operators' revenues by bringing them more traffic whilst cutting their costs by reducing the need for expensive customer support - all whilst improving customer UX. We're honored to be valued by our customers and to be recognised by SourceForge. Thank you Sourceforge!"
-ends-
For further press information please contact:
MIRACL, PR & Media Relations: Sarah Sawrey-Cookson     +44 (0)7765110438   
Email: sarah.sawrey-cookson@miracl.​com
ABOUT MIRACL 
Highly secure, password-free login in just two seconds. The fastest way to improve the user experience, decrease costs and win lost revenue. MIRACL Trust is a PSD2 compliant multi-factor solution for both authentication and transaction signing that runs natively on any device without downloads. It's GDPR friendly since no user data is stored or needed to integrate with any other identity or service platform. It meets gaming MFA regulatory requirements of Ontario, New Jersey and Tennessee, with new territories being added every day. MIRACL's global portfolio of clients include Credit Agricole,Cashfac, Experian and Domino's Pizza. MIRACL's technology is licensed to the US Government, Intel, Google and Microsoft.
For more information visit miracl.com or follow them on social media: Twitter @MIRACL | LinkedIn MIRACL
ABOUT SourceForge
SourceForge.net is the world's largest software comparison directory, serving nearly 20 million users every month and featuring user reviews, product comparisons, software guides, and more. SourceForge's mission is to help businesses find the best software to fit their needs and their budget. There are a variety of software tools available to businesses, and there are tools in almost every category and niche, each serving a slightly different purpose. SourceForge also powers the Slashdot.org/software/ business software and services directory.