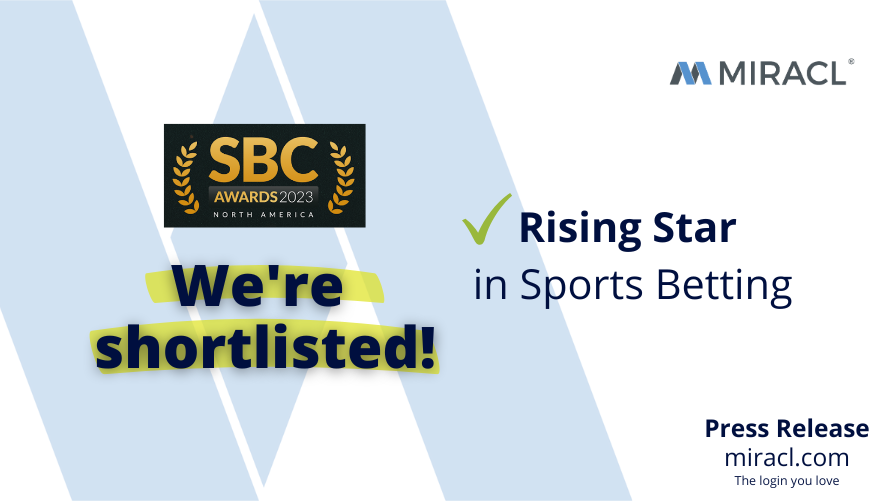 MIRACL, the world's fastest passwordless, single-step multi-factor authentication (MFA) has been shortlisted in the forthcoming SBC North America Awards - in the highly competitive 'Rising Star in Sports Betting' category. 
The SBC Awards North America recognise the achievements of operators, affiliates and suppliers from all major disciplines in igaming - including payments, marketing, platform providers and data. The SBC Awards North America are set to celebrate the companies surviving and thriving in 2023. The shortlist has just been announced.
All categories are judged on results from the period of February 2022 - January 2023 inclusive. The winners will be announced at a prestigious awards ceremony in New York on 11th May 2023.
MIRACL is a passwordless, single-step multi-factor authentication (MFA). With one-step  to activate, implementing MFA in the iGaming or Sports Betting environment with MIRACL, the user login experience is not compromised, but in fact enhanced - maximising the UX for the gamer at login and, with no lost bets, profit potential for the provider. And with a required investment that is often only a fraction of the client's current support costs, this single-step alternative is financially beneficial too.  
A two-second PIN login is all that is needed to authenticate. No passwords, no data and no second device. With unprecedented statistics for logins - 99.9% are successful - it guarantees a seamless login experience for individuals betting – enabling a friction-free experience from entering a platform and placing a bet. 
Rob Griffin, CEO at MIRACL comments, " Multi-factor authentication is now mandated for all gaming traffic coming to operators in States such as New Jersey, Pennslyvania, Ontario and Illinois. It's no surprise then that the momentum to implement effective MFA over the last 12 months has been building fast. We are therefore really pleased, but not surprised, to be shortlisted in the annual SBC North America Awards. iGaming and Sports Betting are finally prioritising an online user experience that is friction-free and highly secure. It goes without saying that providers now need to commit to the very best authentication that simultaneously makes it extraordinarily easy for gamers to get into a platform. MIRACL's single-step MFA is just that - providing the world's fastest authentication which also has the highest login success rate, meaning more traffic and happier users. We can't wait for the SBC North America Awards night and wish all those shortlisted the very best of luck in a highly competitive field."  
Additionally, MIRACL is software-based and API-enabled to work from any device or browser. This means a quick and seamless integration with any device or platform being used. The software doesn't store personal data, passwords or PINs, so it's fully resistant to remote attacks - with zero security vulnerabilities. The old notion that your account login must trade off between security and usability  is no longer true, MIRACL offers both at the same time. For further information on MIRACL please visit: www.miracl.com
-ends-
For further press information, interviews or photography please contact the MIRACL press office:
sarah.sawrey-cookson@miracl.com   |  07765 110438
Notes to editors
About MIRACL
Highly secure, password-free login in just two seconds. The fastest way to improve the user experience, decrease costs and win lost revenue. MIRACL Trust is a PSD2 compliant multi-factor solution for both authentication and transaction signing that runs natively on any device without downloads. It's GDPR friendly since no user data is stored or needed to integrate with any other identity or service platform. It meets gaming MFA regulatory requirements of Ontario, New Jersey, Iowa and Tennessee, with new territories being added every day. MIRACL's global portfolio of clients include Credit Agricole, Cashfac, Experian and Domino's Pizza. MIRACL's technology is licensed to the US Government, Intel, Google and Microsoft.
Follow them on social media: Twitter @MIRACL | LinkedIn MIRACL