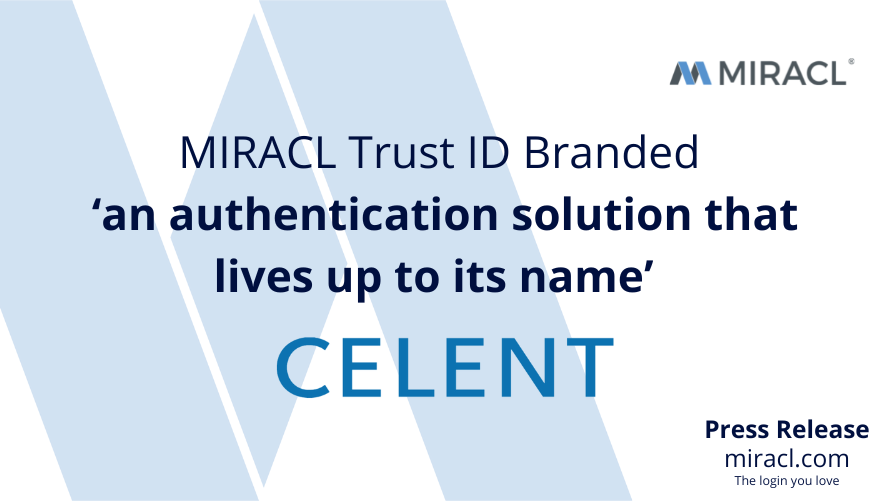 London – September 7th, 2022 – MIRACL, a leader in secure authentication with its unique, single-step, multi-factor authentication technology, today announced the findings of a recent CELENT Solution Report into their offering, which drew some very impressive conclusions.
Compiled by Zil Bareisis in July of this year, the report opens with the admission that 'over the years, industry analysts have learned to take some vendor claims with a grain of salt'. Celent goes on to point out '…we were positively surprised to find that MIRACL Trust ID is a solution that lives up to its name'.
When pressed on the specific benefits of the product for financial services, CELENT cites:
Usability: MIRACL Trust ID is intuitive, simple, and easy to use. Login is extremely fast taking just a few seconds
Security: It is multi-factor but without requiring any additional steps for the user, and the company states that there are no known practical or theoretical attacks against their cryptography and protocols
Deployability: It can be deployed across different types of devices and operating systems without any additional hardware
Cost-Effectiveness: The combination of the revenue enhancements and cost savings delivered by the solution result in a superior total cost of ownership against alternatives, particularly given its Pay-As-You-Go pricing model.
"To receive such a resounding seal of approval from CELENT is hugely important to us and only strengthens our conviction that MIRACL not only assures online security but also transforms users' experience guaranteeing a high login success rate. An easy-to-use login improves conversion, drives revenue up and pushes support costs down" said Rob Griffin, CEO of MIRACL. "It also highlights how ready the industry is to move away from password-based authentication - something we have championed for a long time and which the industry is not enabling fast enough.

Passwords are outdated and make users vulnerable to attack yet the requirement for PSD2 Strong Customer Authentication has actually increased their use. Passwordless multi-factor authentication is by far the most effective way of protecting your online accounts and using biometrics or PIN-based solutions removes the need for passwords altogether. Crucially MIRACL offers single-step MFA across 100% of platforms, which has proven the most popular with users both because it enables much higher login success rates and allows them to log in so much faster."
This change is clearly relevant for the financial services industry, which due to the financial reward available for successful hacks, has been the most attacked vertical (alongside insurance) for the last 5 years.. However, many other sectors such as streaming, gambling and gaming are now adopting mandatory multi-factor authentication in order to protect users' accounts and data. These sectors need to place an even higher priority on user experience than conventional online banking.
Financial services have been the most attacked industry (alongside insurance) from 2015 to 2020, and in all likelihood beyond.
Please see here for the full report. Alternatively, if you would like to receive a PDF copy of the report, please do not hesitate to get in touch.
About MIRACL
Highly secure, password-free login in just two seconds. The fastest way to improve the user experience, decrease costs and win lost revenue. MIRACL Trust is a PSD2 compliant multi-factor solution for both authentication and transaction signing that runs natively on any device without downloads. It's GDPR friendly since no user data is stored or needed to integrate with any other identity or service platform. MIRACL's global portfolio of clients include Credit Agricole, Cashfac, Experian and Domino's Pizza. MIRACL's technology is licensed to the US Government, Intel, Google and Microsoft.
For more information visit miracl.com or follow them on social media: Twitter @MIRACL | LinkedIn MIRACL
About CELENT
For over 20 years, Celent has helped senior executives make confident decisions around their technology strategies to execute at scale.
As the financial services industry rapidly evolves, there is more complexity, with new regulations, startups, technologies, and applications to stay on top of and prioritize. Celent helps you connect this ever-changing puzzle. We offer objective advice and clarity, backed by a database of thousands of solutions and award-winning global best practice use cases. With real-life domain expertise, we also guide you through the maze of emerging tech in the pursuit of value.
Their people, data, insights, and relationships form the foundation for you to use Celent to make confident technology decisions in financial services.
Media Contact
Conor Heslin
Eskenzi PR for MIRACL
07795416144