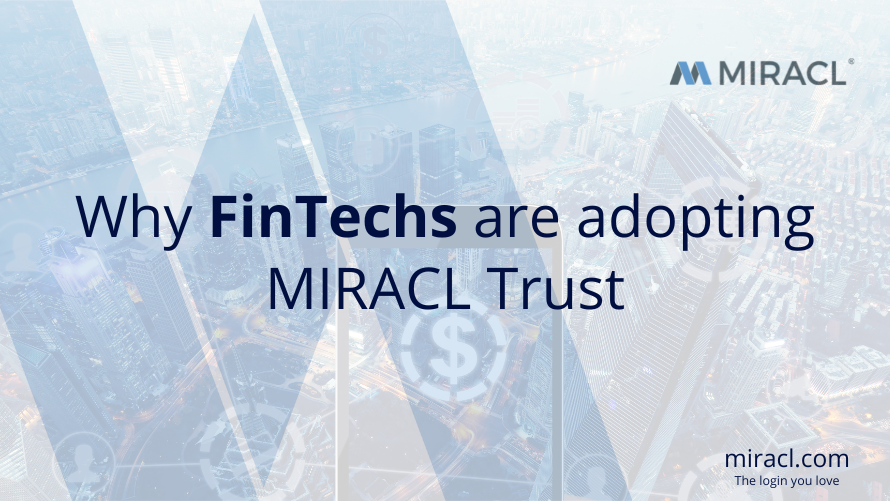 The challenges for FinTech today
The past two years have seen millions more customers dipping their toes into digital finance and spending, and many will continue to use these services. They like the ease and the economic benefits of shopping online, and improved technology means online payments will become increasingly streamlined and attractive.
Neil Kadagathur, the founder of U.K. FinTech lender Credit Spring, believes that the volatile financial climate has led to greater scrutiny of financial institutions. That's not bad for customers as it ensures finances are protected. But it means FinTechs now feel the pressure to tighten their security while guaranteeing an excellent customer experience at the same time.
What FinTech customers want 
Customers don't want to spend minutes, even seconds, thinking about security. They want a safe and simple login that doesn't interfere with whatever they're doing at that moment. They want to check their account wherever they are, safe in the knowledge that their banking details are protected by the best authentication methods available.
James Butland, Vice President of Financial Partnerships at Airwallex, points out: "(…) with fraud risks escalating, there is more distrust around digital payments than ever before." By now, many people have had personal experience with cybercrime, such as phishing, vishing and identity theft. The numbers are staggering: By 2023, Gartner predicts that 80% of organisations will fail to meet security, privacy, usability and scale requirements - unless their senior leaders sort it out. Do you want to be one of this 80%?
The biggest FinTech challenge- the customers
Despite all warnings from cybercrime and security experts, customers continue to use simple passwords like "12345" or fail to enable Multi-Factor-Authentication (MFA) when logging into their FinTech accounts unless they're forced to do so. Many organisations are not any better and rely on outdated authentication methods. One of the reasons for this reluctance to adopt safer authentication methods is that technology is often seen as tedious and complicated.
FinTech customers often have to switch browser windows for authentication, and some authentication methods are still not easy to use when you're out and about. And yes, a One-Time-Password (OTP) is a great idea, but not when you're on your work device and get the code to your smartphone that is charging in the meeting room because you can't find a free socket anywhere else. In addition, OTPs can be rerouted and are no longer the safe authentication method they once were.
Then, there's the issue of time. It simply takes too long to log into most FinTech accounts. Every extra second your customers have to spend on login increases friction and the likelihood of leaving the app. And ease of use is the one USP a FinTech wants to have. Otherwise, why would customers bother with new technology and not go straight to one of the big banks or institutions?
How MIRACL can help FinTechs
Speed of implementation
With MIRACL, it takes 2 seconds to log in. Error rates are as low as 1/10th of that of passwords. That's because, in the interest of speed, we have stripped out all the extra steps on devices or external processes to develop a single user-step login process. Other than using an auto-fill password manager (hacker's best friend), that's faster than any other authentication method we know in existence. Credit Agricole has already recognised this and is using our military-grade cryptography to meet its strict retail banking criteria without tying up customers in complex security protocols. Before that, Crédit Agricole Romania used hardware tokens for second-factor authentication for 10,000 of its customers. Every month, the IT team had to resolve issues related to the maintenance of these tokens. It was also impossible to send replacements for damaged keys to customers outside the country. Now, the IT team can focus on vital issues for the bank instead of second-factor authentication tokens. To date, they haven't had a single customer complaint about MIRACL. You can read the full case study here.
PSD2 reliant 
The Payment Service Directive was created by the European Union to regulate payment services, protect users, and encourage non-banks to participate in the payment industry. It provides the legal framework in which payment providers in the E.U. must operate. In March 2022, its second version, PSD2, was implemented in the U.K. and the E.U.
The PSD2 covers two areas, market rules and business conduct rules.
For FinTech, PSD2 was interesting because it meant banks could open their payment services to other companies - Third-Party Payment Services Providers (TPPs). It's now easier for TPPs to offer large-scale solutions in the European Union.
The other significant change is the introduction of new security requirements known as Strong Customer Authentication (SCA). Now bank operations require two authentication factors. The definition of an authentication factor also became stricter- a result of more attacks on companies in all sectors of the economy. And that's where MIRACL can help you. MIRACL meets the Strong Customer Authentication (SCA) standards of the E.U. Revised Directive on Payment Services (PSD2). Thanks to our cryptographic technology, user info isn't stored in the cloud. Since authentication happens on the device, no one needs to know your PIN. Transactions are bound to the user via our digital signing feature, cutting fraud.
Cost
A strong customer authentication method has to be affordable as well as effective. That includes setup costs such as design, configuration, rollout and training. Then, there are maintenance costs like monthly fees, replacing broken tokens and extra payable features. Licence costs are another factor: some software is limited to a certain amount of people, countries or purposes.
MIRACL takes minutes to set up and needs almost no training, saving you time and money. You can easily calculate costs for your business using the calculator on our website.
Want to learn more about how MIRACL Trust can help your FinTech to stay compliant while offering a simple user experience?  Get in touch here or schedule a demo here.
Joining our newsletter is also a great way to get to know us.