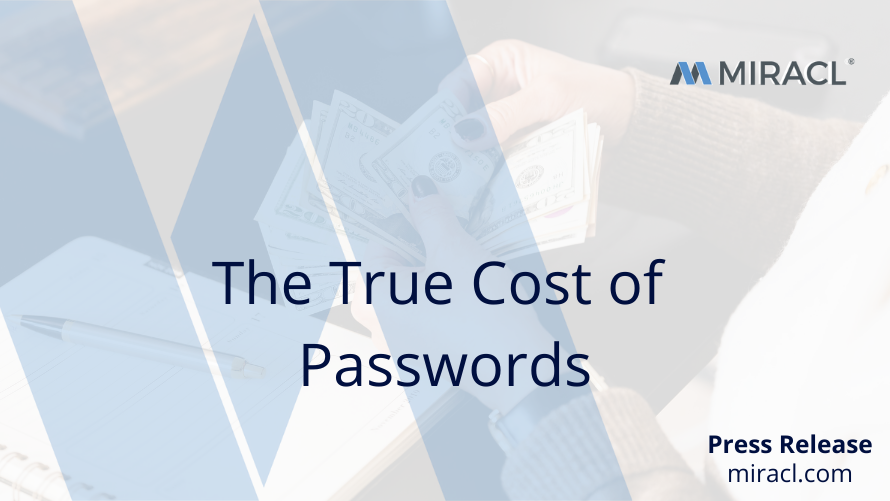 WORLD PASSWORD DAY 2022
THE TRUE COST OF PASSWORDS, AS 25% OF UK ADULTS ADMIT THEY PURCHASE FROM ONLINE COMPETITORS IF THEY FORGET A PASSWORD
Poll from MIRACL and YouGov reveals post-pandemic frustration with passwords
Research shows many consumers simply 'give up' on accounts when they can't remember their password
MIRACL questions the longevity of the password system
Findings of this latest survey unveiled on World Password Day
Thursday 5th May: A third of UK adults (33%) admit they will stop using an online account entirely if they can't remember their password. In the hope of triggering wider discussion as we enter World Password Day, this news further bolsters the case for urgently replacing passwords, currently responsible for the large majority of all authentication, as the primary means of authentication.
The UK poll, conducted by YouGov, of more than 2,000 adult respondents between 27 and 28 April 2022, also found that 1 in 4 (25%) will leave a website and purchase from a competitor if they can't remember their password to access their account. This not only highlights password frustration with consumers, but the cost this brings to businesses too.
And what's more, 56% of us will have negative feelings towards a brand or website if they have frustrations with its logging-in process, research from MIRACL has revealed today. This, in particular, will deeply concern the marketing sector, whose focus for many is building brands.
Rob Griffin, CEO at MIRACL comments, "Our YouGov survey revealed today should concern all teams managing brands with a digital presence. For businesses operating online, these results verify that the outdated password system not only costs them sales and profit but also that consumers' whole perception of a brand is frequently negatively impacted by a clunky online experience. The login experience defines not just crucial first impressions but also the whole customer-friendly nature of a brand. Passwords are failing users and brands alike. World Password Day is the perfect time to highlight this and encourage organisations to urgently consider more seamless verification options for the benefit of both themselves and their customers."
MIRACL is the world's only one-step multi-factor authentication. Using a PIN based zero knowledge trust process – which does not require passwords or a second device to authenticate - its' clients have repeatedly stated 'it's too good to be true'. Learn more at www.miracl.com
Its recent blog on the history of passwords can be accessed here: https://miracl.com/blog/downfall-of-passwords/
Questioning the longevity of the password MIRACL will once again host World Passwordless Day on Thursday 23rd June, celebrating the benefits of online authentication without a password.
Media Contacts:
For interviews, photography or further press information:
Sarah Sawrey-Cookson, MIRACL
Sarah.sawrey-cookson@miracl.com
07765 1105438
Survey:
For the full YouGov polling breakdown, please contact the MIRACL PR team: