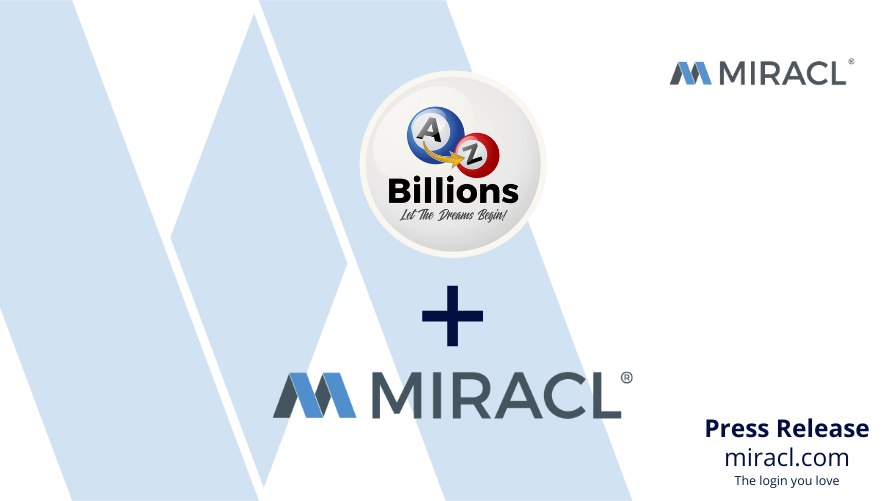 AZ Billions, the globe's first new alphabet lottery, due for launch this coming June, has today revealed an exciting new partnership with the world's only single-step multi-factor authentication, MIRACL.
According to AZ Billions, the global online lottery market is expected to grow by 14.9% in the next five years. One reason why AZ BIllions, the world's first letter based lottery, is launching in June 2023. As an online first game, it is imperative that the user experience is as clean and friction-free as possible, and why selecting the smoothest multi-factor authentication was imperative.
MIRACL, is the fastest, single-step, passwordless multi-factor authentication (MFA) on the market. Unlike other multi-factor authenticators it only requires one step for the user to authenticate, thus play is seamless and any loss of revenue due to clunky login alternatives is entirely reduced. With a proven login success rate of 99.9%, it makes MIRACL an ideal solution for this innovative new lottery. 
In the past 12 months MIRACL has made significant headway in iGaming. Its partnership with another lottery initiative, MyLottoHub in Nigeria transformed the success of the organisation.In fact thanks to innovations with MIRACL, MyLottoHub nearly doubled its conversion rate to over 75%, and began a sustained period of exponential growth. Over six months, MyLottoHub experienced 60% growth in month-on-month traffic. Registered users continue to grow by 35% a month. Underpinning this exceptional health is an industry-leading login success rate of 99.8%, entirely thanks to MIRACL. Expectations for another successful lottery partnership remain high with AZ Billions. 
CEO at XHL, Craig Austin says, "Our whole team is thrilled to be partnering with MIRACL and being able to utilise MIRACL's single-step  login authentication. We decided it is imperative to utilize MIRACL's technology to enable as smoother onboarding process by facilitating an efficient UI and customer journey, which we believe can only complement our bottom line."
Michael Tanaka, CCO at MIRACL added, "AZ Billions is an innovative lottery about to launch on a global scale, and we are very pleased to be integrating our single-step authentication into their platform from the outset. Following the success achieved by MyLottoHub, we're confident that MIRACL's technology will help elevate AZ Billion's user experience, maximising the impact and profit potential of this new alphabet based lottery - all whilst meeting even the toughest security standards set by lottery regulators such as Canada's AGCO."    
MIRACL eliminates the need for outdated security practices such as passwords, SMS Texts, push notifications and key-cards. The use of true two-factor authentication coupled with the latest Zero Knowledge Proof (ZKP) patented technology means no personal data is stored or transmitted and there are no "honey-pots" of data exposed to attack, ensuring MIRACL Trust is completely GDPR friendly too. With a simple two second login via PIN or biometric, MIRACL customers see login success rates as high as 99.996%.
In the gambling industry, security is of utmost importance. MIRACL's user-friendly MFA solution helps to ensure that the online gaming experience is secure and protected against unauthorized access. This is important for both players and operators, as it helps to prevent fraud and to maintain the integrity of the games.  Visit www.miracl.com for further information.
-ends-
For further press information please contact:
MIRACL, PR & Media Relations: Sarah Sawrey-Cookson     +44 (0)7765110438   
Email: sarah.sawrey-cookson@miracl.com 
ABOUT MIRACL 
Highly secure, password-free login in just two seconds. The fastest way to improve the user experience, decrease costs and win lost revenue. MIRACL Trust is a PSD2 compliant multi-factor solution for both authentication and transaction signing that runs natively on any device without downloads. It's GDPR friendly since no user data is stored or needed to integrate with any other identity or service platform. It meets gaming MFA regulatory requirements of Ontario, New Jersey and Tennessee, with new territories being added every day. MIRACL's global portfolio of clients include Credit Agricole, Cashfac, Experian and Domino's Pizza. MIRACL's technology is licensed to the US Government, Intel, Google and Microsoft.
For more information visit miracl.com or follow them on social media: Twitter @MIRACL | LinkedIn MIRACL
ABOUT AZ Billions Lottery
The AZ Billions Lottery, is a unique alphabet-based lottery concept with a pending patent. They believe this is the first new lottery concept to be launched into the world Lottery market since Powerball in the early 1990's. For further information visit: azbillions.com