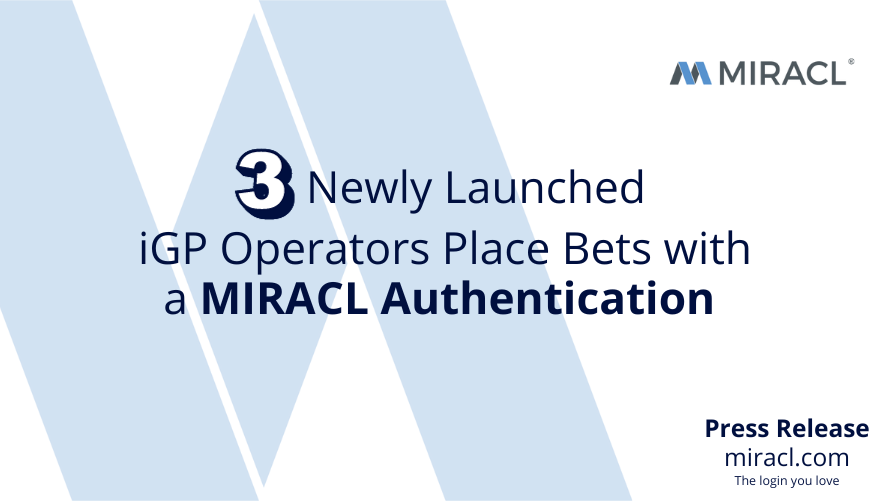 MIRACL, the fastest, passwordless single-step multi-factor authentication, has this week secured partnerships with three major operators from the iGaming Platform family.
Since the new collaboration with iGP earlier this summer as the multi-factor authentication of choice, its operators have been scrambling to discover the MIRACL secret. Today, MIRACL is pleased to announce that they have subsequently signed agreements to partner with Rigged, Touch Casino and Woom, with immediate effect.
iGamingPlatform (iGP), a pioneering casino and sportsbetting platform provider, publicly announced a new partnership with MIRACL in May 2023.
Rob Griffin, CEO at MIRACL comments,"We know that the implication of using MIRACL as your iGaming MFA not only delivers immediate and significant benefits for the operators bottom line, but provides an absolutely seamless login experience for users. Gaming is for fun, and the easier you can make it for the players, the more they play.
With MIRACL's friction-free passwordless login, that is also multi-factor, these operators will immediately maximise both traffic and revenues – whilst minimising support costs from account resets and other password-related issues.  We literally can't wait to provide these benefits for Rigged, Touch Casino and Woom and help them on their journey for ongoing success."
Touch Casino reveals that it is partnering with MIRACL to provide stronger online gaming security – and have integrated MIRACL's technology to offer quick and easy Multi-Factor Authentication (MFA) and Digital Signing, taking only 2 seconds for MFA. This will ensure top-notch security and a smoother gaming experience.
Touch Casino's Director, Rhys Hamilton, is excited about the collaboration, aiming to provide the best security and convenience to players. He says "MIRACL's technology protects user identity with minimal hassle during authentication, aligning perfectly with Touch Casino's commitment to a seamless gaming experience. Together, we're raising the bar for secure online gaming."
iGP's Sales Director, Elliott Banks adds, "MIRACL brings gaming operators a transformed user experience that not only provides more revenue and less cost but also bullet-proof security and protection. For operators, it's the holy grail."
MIRACL, a single-step, passwordless MFA, is the world's fastest login but it also has the highest success rate meaning gaming customers get straight to their account with zero effort, regardless of what device or browser they are using.
MIRACL eliminates the need for outdated security practices such as passwords, SMS Texts, push notifications and key-cards. The use of true two-factor authentication coupled with the latest Zero Knowledge Proof (ZKP) patented technology means no personal data is stored or transmitted and there are no "honey-pots" of data exposed to attack, ensuring MIRACL Trust is completely GDPR friendly too. With a simple two second login via PIN or biometric, MIRACL customers see login success rates as high as 99.996%.
In the gambling industry, user experience alongside security is of utmost importance. MIRACL's user-friendly, MFA solution helps to ensure that the online gaming experience is secure and protected against unauthorized access. This is important for both players and operators, as it helps to prevent fraud and to maintain the integrity of the games.